With these tips, anyone can grow lavender
(Read article summary)
Helpful tips on growing lavender in less than ideal conditions.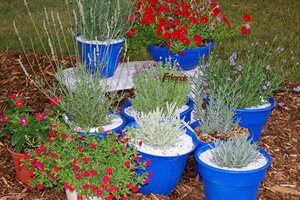 Courtesy of Doreen Howard
Visit the Mediterranean coast or warm, dry interior valleys along the Pacific Coast, and fields of brilliant blue aromatic lavender are everywhere. Those are the climates in which lavender flourishes.
Many of us don't live in paradise but contend with humid summers or frigid temperatures six months out of the year. So, if you want lavender, you coddle it. I do.
Lavender is notorious for taking its poky time to flower in gardens, usually not hitting its peak until the second season. But lavender grown in containers is a different story. You can enjoy fragrant flowers in a couple months if you plant correctly.
Rapid drainage, alkaline soil, plenty of light, heat, and excellent air circulation are musts, according to my friend Rose Marie Nichols-McGee, herb and lavender expert.
She gave me these tips on how to grow lavender in containers, which have proved invaluable:
1. Start with large pots, as lavender plants can grow to the size of small shrubs. Twelve- to 16-inch containers do the job nicely. Fill the bottom inch or two of the container with Styrofoam peanuts or gravel to facilitate swift drainage. Add a tablespoon of lime to the potting mix after filling the container. Put one plant in the center of each pot, and situate it so the plant's crown sticks up about an inch above the soil line.
2. If the potting mix doesn't contain timed-release fertilizer pellets, sprinkle a half cup over the surface of each pot and scratch it in with a fork. I use alfalfa pellets, which are a slow-release organic food with triacontanol, a growth stimulant.
---