Elegant, easy orchids to grow indoors
(Read article summary)
Moth orchids look spectacular indoors and are easy to grow.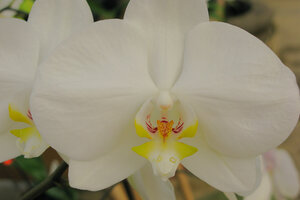 Courtesy of Betty Earl
They are elegant and sophisticated. They're certainly exotic. But if you think orchids are hard to grow, think again.
For a long time now, orchids have had the rather dubious reputation for being temperamental beauties that require meticulous care, plus a healthy dose of luck, for them to grow and prosper.
But, in fact, there are many types that will thrive in the hands of the average gardener in a typical home, including the popular corsage-type orchid, among many others.
And in the past few years, bucking their family's delicate reputation, one species of orchid, Phalaenopsis, has gone from exotic flora to supermarket staple. Cloned in Taiwanese labs and nurtured in California nurseries, they're popping up in droves at supermarkets, big box stores, nurseries, garden centers, and discount clubs.
Native to tropical Asia – including the Philippines, Java, and elsewhere – the orchids in this group, including many species and hundreds of man-made hybrids, make excellent indoor plants because they need only filtered light and average indoor temperatures for them to thrive.
Orchids that look like moths
These rather mundane-looking plants produce some of the most wildly exotic flowers imaginable. The arching sprays of so many brilliantly colored, flat, winglike blossoms give Phalaenopsis its common name – the moth orchid.
---