Permeable paving: Good for the environment and your landscape
(Read article summary)
Less runoff, replenished groundwater levels, and tax savings are a few of the reasons why your home needs permeable paving.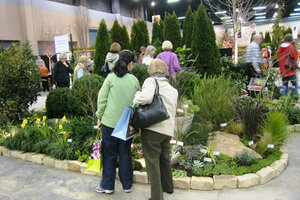 Photo courtesy of Mary-Kate Mackey
Recently I traveled to Atlanta as a speaker for the Southeastern Flower Show. It was a beautiful and informative three-day show, with astonishing entries from both the Garden Club of America and the National Garden Club, competing in many categories. There were idea-gathering display gardens, fabulous photography and vendors offering everything from bulbs to complete designs.
However, among all this beauty, one of the most popular places at the show was along the back wall, an area dedicated to the mundane and practical aspects of water conservation. By the time I checked it out, much of the literature was gone — showgoers' response had been unprecedented.
As well it should be. With the Southeast's recent history of prolonged drought, followed by inundations of rain and snow, water conservation has moved front and center for its gardeners.
Let the rain pour through
At my first stop, I learned about permeable paving and why we homeowners need it. Using a paving that water can soak through allows you to recharge groundwater on site, said masonry promotions manager Tom McCarty of the Georgia Masonry Institute. That means you don't have to create extra swales, ditches, and/or piping to move the water away into storm drains.
Or you could gather the water from under the paving and move it to a storage tank. Depending on where you live — I know this is true in parts of my home state, Oregon — not having storm-drain discharge can also save you money in taxes.
Another bonus — the tiny holes in the porous paving conduct air up from the cooler earth underneath, thus lowering the temperature of the concrete on hot days. Cooler concrete around your house means the ambient air is not as hot, which, in turn, could make a difference in your air conditioning expense. And the plants along the edges of your paving, whether it's a driveway or a garden path, won't fry or need as much supplemental watering.
---