Another jolly good year for David Austin's English roses
(Read article summary)
New English roses introduced by David Austin will add flair to this year's gardens and flower shows.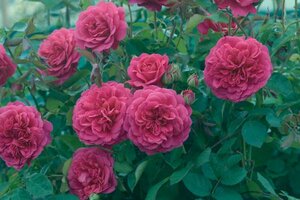 Courtesy of David Austin
Everything seems to be coming up roses for David Austin in 2010. For starters, he is celebrating the 40th anniversary of his first repeat-blooming English rose varieties. And:
– His family-owned company is about to introduce several new roses to the American market, one of which may already be sold out.
– He has been named this year's honoree at the Great Rosarians of the World (GROW) lecture series. The Huntington Library, Art Collections, and Botanical Gardens in San Marino, CA, and New York's Manhattan Rose Society cosponsor the GROW lecture series, designed to recognize those who have contributed significantly to the Queen of Flowers.
In the case of Mr. Austin, "significant contribution" is an understatement. Here is a man who literally changed the rose world by creating an entire new class of "old fashioned" roses.
As a result of a hybridizing program initiated in the 1950s, he captured the appealing features of Old Garden Roses (those introduced prior to 1867) – such as cupped flowers and strong fragrance in bushes that have the repeat bloom and vigor of modern roses.
For many like myself, the graceful charm of these shrubs was the beginning of a complete rethinking of the philosophy of rose gardening.
As readers may recall, I contracted English Rose fever while living in London in the early 1990s. Since then I've been a huge David Austin fan. And even though I might be prejudiced, it seems well deserved that he is now joining past honorees such as the visionary Wilhelm Kordes and the hybridizer of Knock Out, Bill Radler.
---