Pruning shrubs and trees: Making gains by cutting back
(Read article summary)
In many parts of the country, March is pruning month, the time to dust off your clippers and start cutting back shrubs and trees.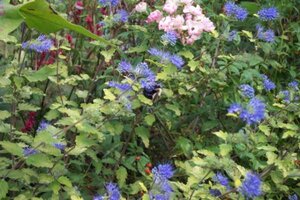 Courtesy of Donna Williamson
If the snow was a memory and I could walk around without slipping and sliding, I would be pruning shrubs and trees right now.
To me, pruning is such an captivating pastime that I seem to end up in a wonderful trance and forget where I am or what time it is and just look for the next crossing branch. Experience has taught me to approach this activity with some caution.
Once I was pruning a young cherry tree, trying to develop a nice scaffold of branches, when I decided I need to step back to look at the big picture. I forgot I was on a ladder.
March is a good time for those of us in the mid-Atlantic states to prune most woody plants that are not spring bloomers.
Spring bloomers should be pruned right after flowering in the spring unless your heart is made of stone and you don't want to see perky forsythia, quirky quince, vivacious viburnums, cute kerria, or majestic magnolia. And after flowering, don't forget to cut some of the old wood out of your lilac and bring it down in height so you can smell the wonderful lilac fragrance.
Pruning can create great puzzlement or a devil-may-care sense among the clan of non-gardeners, and while it can be difficult to remember all the pruning rules for clematis varieties, shrubs are pretty straightforward:
They either bloom in the spring and can be pruned right afterward, or they flower on "new wood" (new stems or branches that grow this year) and can be pruned now. [Click here for a list of when and how to prune some common trees and shrubs. And click here [pdf] if you live in Zone 7 or south.]
---