Winners of our latest Flickr photo contest
(Read article summary)
Here are the winners of the latest Gardening With the Monitor on Flickr winter photo contest.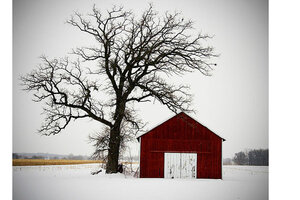 Courtesy of Dana O'Shea
The Monitor's Gardening section has a group on Flickr where members post photos -- usually of gardens, of course.
Occasionally, we have contests at the Gardening With The Monitor group site for photos of a particular subject. We've had competitions to find the best photographs of fruit and vegetables, as well as great images of plants.
Our most recent contest was a bit different. Instead of focusing on plants or landscapes, we chose the topic, What Does Your Winter Look Like?
Monitor staff photographer Mary Knox Merrill judged the photos that were submitted [click here to see all of them; there are two pages] and came up with three winners. First and third places were won by the same photographer, Dana O'Shea. (You can see her entire photo stream on Flicker by clicking here.)
Here's what Dana, who lives in Wisconsin, has to say about her winter images:
One of my favorite activities is to drive to the country and capture some of the beauty of nature. I took Winter Barn and Tree [which took first place; see first photo above] on one of those excursions. If felt like a perfect winter moment.
---