Everything you need to know to grow tasty tomatoes
(Read article summary)
Tomatoes 101 - Here's everything you need to know: trends, tips for easy growing, and recommendations of tasty favorites.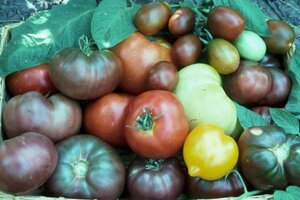 Courtesy of Doreen Howard
I've grown more than 100 tomato varieties in the two decades I've seriously gardened. I love them all. Each one – heirloom, hybrid, cherry, beefsteak, or paste – has a distinct flavor, texture, and appeal. Once you've tasted a home-grown tomato, it's hard to swallow grocery store versions.
Interest in home-grown tomatoes is booming due to the economy and the quest for healthy, untainted food. Tomatoes are easy to propagate, produce big crops – even in containers – and are lusciously flavored.
These are the trends for tomatoes, according to a number of experts I talked with:
– The demand for black tomatoes has grown substantially as gardeners get beyond their appearance (brown flesh with greenish interior) and taste the tomato's complexity, according to Gary Ibsen of Carmel, Calif., founder of the heirloom seed company TomatoFest .
– Cherry tomatoes of different colors are another trend Mr. Ibsen is seeing. His customers are ordering five or six different colors of cherry types to mix for salads or to eat out of hand. Varieties like Black Cherry, white Italian Ice, Gold Nugget, and Green Grape look stunning with red cherries on salad plates and offer an array of flavors.
– Shorter plants are another new development, because yards are smaller and container cultivation is easy for busy people, says George Ball, president of W. Atlee Burpee & Co. Brandy Boy was one of Burpee's top five sellers in 2009, because it produces high yields on a shorter plant.
Dwarf varieties are being developed by Tomatopalooza heirloom tomato festival founder Craig LeHoullier, of Raleigh, N.C. Ones like Lime Green Salad, a 20-inch plant that yields three-to-five-ounce green fruit throughout the season, are easy to plant anywhere. He also says that two-to-four-foot plants bearing 20-ounce tomatoes in black, green, gold, orange, pink, and bicolors will be on the market within two years.
---