Is the future of food in frozen, seed-filled Tupperware containers?
(Read article summary)
The Svalbard Global Seed Vault contains the world's largest and most diverse seed collection. In case of a disaster or crop failure in the future, the seeds, stored in a frozen underground vault, may prove vital.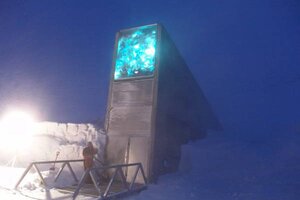 NEWSCOM
The future of global agriculture is buried, frozen, and locked in what appears to be the back entrance of Superman's Fortress of Solitude.
The Svalbard "Doomsday" Global Seed Vault – a sliver of concrete etched into the frozen tundra in one of Norway's remote Svalbard islands – contains the world's largest and most diverse seed collection.
As of this month, the vault has grown to more than 500,000 unique samples. Ultimately, it will hold samples of all the world's available crops, around 3 million samples or 1.5 billion seeds.
But the Seed Vault is more than just a concrete fortress stuffed with seed-filled Tupperware. The seed bank is a resource that may prove to be critical in the event of a wide-reaching natural disaster or to aid scientists in developing crops suitable to an ever-warming planet.
"These resources stand between us and catastrophic starvation on a scale we cannot imagine. And we have kind of a perfect storm hitting agriculture," Carey Fowler, leader of the Global Crop Diversity Trust, said in an interview with CBS's 60 Minutes.
Any given crop, however small or unproductive, may contain the necessary genetic makeup to create a disease- or pest-resistant variety in the future. That was the case in the 1960s when farmers were losing wheat crops to a stripe rust epidemic. A little-used variety of Turkish wheat contained the genes needed to develop a disease-resistant crop that is now used worldwide.
---