Plants that fight algae in the water garden
(Read article summary)
When the water garden turns green in spring, how to fight that algae? These plants will help.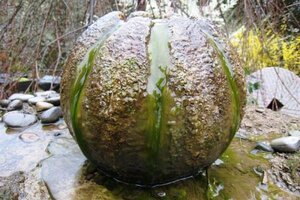 Courtesy of Mary-Kate Mackey
It must be spring – right now, my garden fountain is green with string algae. Yet I know that once my nitrogen-gobbling water plants wake up, the algae will diminish – without my removing any of it. If the specter of algae is casting its green sheen over your water feature, whether it's a fountain or acres of pond, your first and best defense is to stock up on plants that can compete with the algae and win.
The nitrogen connection
Algae live on excess nitrogen in the water. This nitrogen comes from decomposing organic matter – everything from fish waste to falling leaves. Lower the amount of available nitrogen, and you will lower the amount of algae.
So the first step is to keep as much decomposing material out of the water. That's why many homeowners put nets over their ponds in fall.
Of course, it helps to utilize the good bacteria in a biological filter, and to keep pools tidy. But fast-growing water plants are one of the best defenses against repeated algae blooms.
It's the same principle you use in lawn care: If your grass is healthy and growing well, it won't be overrun with weeds.
The green gap time
Before deciding which plants to introduce, here are a few cautions.
Algae will never go away entirely. Your water feature is not a swimming pool. Wherever you have sunlight, you will have algae. And in spring there's always more of it. That's because the good brown bacteria – the stuff that slimes your rocks – is busy breaking down organic matter and making more nitrogen available so that water plants can get a growing jump-start.
---