My favorite garden tool: A scanner
(Read article summary)
Scanners are the new trowels. They're great garden tools. You can create lasting 'arrangements' by scanning your favorite flowers, leaves, and fruits.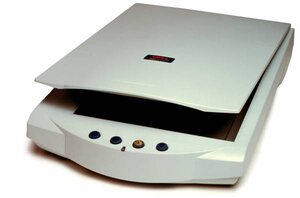 NEWSCOM
As i write this, it's been raining for days, after snowing for months, and so I ordered more seeds! Totally Tomatoes is having a sale on – can you believe it – Eva's Purple Ball, the most wonderful tomato in the universe! This made me think about last summer and one of the best garden tools I used … my flatbed scanner.
Flatbed scanners are not costly as equipment goes. I bought this one to work on a family history for a friend, and it has beautifully scanned many photos and slides over the past few years. I chose the Epson V500 Photo scanner because many of my friend's photos were in frames and the top lid adjusts for bulky items. Also, it was affordable.
What does this have to do with gardening and garden tools?
Because the scanner's lid can be adjusted upward, I can scan flowers, fruit, and other 3-D items. I started with my favorite daffodils, 'Professor Einstein,' and the beautiful emerging leaves of 'Goldflame' spirea. The results weren't exactly wha tI was hoping for, though.
I put the top lid down and sadly, the background was white and looked like a scanned picture. Later, I would gain some scanner finesse.
I walked around the garden on any given day, picking up blossoms and beautiful leaves, plants blooming at the same time, and scan them into a picture I can save.
Early summer brought the flowers of Hesperis (dame's rocket), a rose (Ghislaine de Feligonde – I bought it for the name), 'Goldflame' honeysuckle, the Buck rose 'Winter Sunset,' and leaves from the variegated tree Viburnum lantana.
By this time, I had learned to just leave the lid up on the scanner and get a black-ish background , which is much more attractive.
Well into this form of entertainment by July, I composed a picture for my friends as a Fourth of July greeting. It contained a sparse crop of blueberries, the variegated leaves of the aralia, Eleutherococcus, gooseneck loosestrife, St. John's wort, hosta flowers, and Verbena bonariensis, along with a delicious gladiolus.
---