Have you ever found a pepper inside a pepper?
(Read article summary)
When a gardener finds a little pepper inside a bigger pepper, she wonders: Why does that happen and what's it called?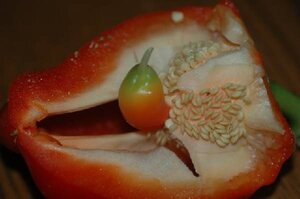 Karan Davis Cutler
Gardeners, much like Blanche DuBois in "A Streetcar Named Desire," can count on the kindness of strangers. The strangers in this case were a half-dozen botanists. The kindness was answering a question: What is the term for the small pepper that sometimes grows inside a bell pepper? And what causes it?
I searched the library and the Web before I sought help, so it made me feel better when most of the experts came up empty-handed.
The answer eventually came from John Stommel, a researcher in the Genetic Improvement of Fruits and Vegetables Laboratory of the USDA's Agricultural Research Service.
Dr. Stommel is located in Beltsville, Md,, the mother ship of the ARS, but the service has units located from coast to coast that carry out thousands of research projects about everything agricultural, both floral and faunal.
Readable summaries of their technical research appear in the monthly Agricultural Research magazine, which you can access online.
Bur back to peppers in peppers. There appears to be nothing published on the subject in the past 50 years other than an article written by three University of California scientists in 1966.
---