In praise of poukhanense azalea
(Read article summary)
Poukhanense azalea is a charming flowering shrub of early spring that draws praise for its hardiness and pretty blooms.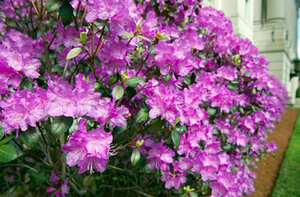 Mary Knox Merrill/Staff/The Christian Science Monitor
Each day this week, my smile has grown wider as I approach work, because of the poukhanense azalaeas cheerfully blooming outside my office building.
I especially welcome them because they're one of the early flowering shrubs of spring, usually bursting with blooms even before the weather warms up.
They grow well in Tennessee, where I have lived, and they do well in Boston. That means they're adaptable, a good quality in any plant. And this is a hardy flowering shrub -- to Zone 4, most references say, which is unusual for an evergreen azalea.
But they have an awful mouthful of a name -- not only is poukhanense not easy to pronounce (Poo-can-ence), but the botanic name is Rhododendron yedoense var. poukhanense.
Doesn't exactly roll off the tongue, does it?
Where does the name come from?
I've known this Korean azalea for years, but only recently wondered about how it got its name. For anyone else who might wonder: "Poukhanense alludes to Mount Poukhan in Korea, and Yedoense means "from Edo," i.e., Tokyo.," notes Paghat the Rat Girl, who gardens in the Pacific Northwest.
And as a historical note, Ian Donovan relates on the website of the American Rhododendron Society:
---