Blood lily: a ball of fire in a flower pot
(Read article summary)
Blood lily is a plant native to South Africa that produces fiery red flowers. It's also called the fire-ball lily.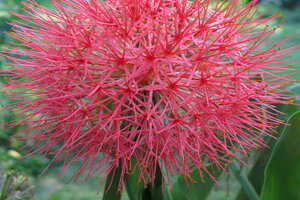 Courtesy of Betty Earl
For flashy, spherical, red blossoms indoors or out, the blood lily is a rare and unusual South African container plant.
With the latest predictions of temperatures dropping to the high 40s F. (4 to 9 C) at night in my area, it is time to start bringing in the tropical plants that I typically overwinter indoors.
The first to come in is the blood lily (Scadoxus multiflorus, formerly Haemanthus multiflorus) , also known as the powder-puff lily, African blood lily, fire-ball lily, and football lily. A dazzling, though somewhat bizarre-looking plant, there is, nevertheless, something special about it.
Yes, it is weird looking. And yes, it blooms for only two short weeks, or less. But when in full flower, it is an amazing conversation piece, stopping all friends and visitors dead in their tracks.
That alone is worth the price of the bulbs.
This blood lily is one of about 50 species of Scadoxus from central and southern Africa, but only a few are available in this country. It belongs to the Amaryllis family, and I treat it as such. Thus far, mine seem to be thriving.
Since they're hardy only to USDA Zone 8, I grow them in containers, where, when in full bloom, they drive visiting hummingbirds absolutely crazy – and the hummers' antics, in trying to figure out this curious plant, keep all on-lookers greatly entertained.
Spectacular flowers
Airy, alien looking, orange-red balls about the size of a small beach ball (up to 10 inches in diameter), consisting of numerous tiny flowers – up to 200, I'm told, but I haven't actually counted them – each with miniscule yellow stamens) explode upon the scene in early summer on stout, solid, 1-foot stalks.
---