The Des Moines Farmers' Market: a Saturday tradition
(Read article summary)
At the Des Moines Farmers' Market on Saturdays, zucchini is a dollar, but petting a puppy is free. It's a great place to people watch and dog watch, as well as pick up everything from punk pumpkins to handmade clothes.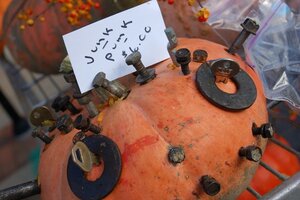 Courtesy of Craig Summers Black
I guess you could think of it as a Punk Kin.
Some Iowan got awful creative with one of fall's ubiquitous cucurbits and adorned its orange flesh with "body art" – more than enough to trip several airport metal detectors.
Were you to give this millennial pumpkin a name, it might be Art. I prefer to call him Pearce.
Such is the pleasantly schizophrenic nature of the Des Moines Farmers' Market, surely the best thing about this mid-size burg. (Well, there is the State Fair, reputed to be the best in this fair country.)
Buy ducks, long Vietnamese beans, and garden art
An average of 18,000 people saunter through this Saturday farmers' market (record high: an opening-day 30,000), fingering the wares of 200 vendors. I love it when the Hmong women bring out the long Vietnamese/French beans, but there is every other ilk and stripe of produce and foodstuff offered, and in abundance.
We picked up an all-natural duck (deceased) and had him for dinner last week. You can also get elk, buffalo, goat (and goat cheese). And Amish pastries and Dutch pastries. And handmade clothes, garden art, salsa, root beer, barbecue sauce … the list is endless.
Plenty of pooches enjoy the market, too
Me? I go to people watch – and dog watch – a large latte in hand. And then I end my circuitous route at a vendor who has a tiny nursery. Nice stuff, too. I usually spring for something of hers, most recently a variegated sanguisorba.
---