Spice up your garden with ornamental peppers
(Read article summary)
Ornamental peppers spice up the garden with a hot new look. Not only are the peppers colorful, they're also edible.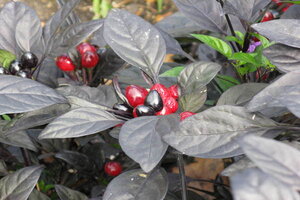 Courtesy of Betty Earl
Looking for a hot landscape plant? Plan to spice up your yard with ornamental peppers next year.
After visiting a couple of gardens where vegetables, grown not only for the produce but for their ornamental value as well, were gracefully incorporated into various beds and borders, I decided to add a few "ornamental" veggies into my own landscape,
Though I'm quite pleased with my minuscule additions -- primarily Swiss chard, chives, and parsley -- a recent visit to Cantigny Gardens, in Wheaton, Ill., made me sit up and take notice:
Wow, a glorious bed chock full of ornamental peppers!
Now, I'm a pepper fanatic. Love them in, on, and with just about everything — grilled, sautéed, or pickled.
That said, however, I'm sure I've never picked a peck of pickled peppers – and I don't think Peter Piper was even aware of the existence of any ornamental peppers – but if Peter could pick some ornamental peppers today, he'd have more than a peck of incredible cultivars to choose from.
Members of the Capsicum annum family, ornamental peppers come in a variety of sizes, fruit colors, plant habits, foliage colorations, and varying degree ratings of "heat."
Generally, ornamental pepper is the term given to pepper plants that are extremely attractive, and thus grown in the garden for their aesthetic value. But these beauties are also edible – although most are generally fiery hot, way too hot for people's tastes. (Heat is measured in Scoville Units.)
---