Arkansas blue star: A winner worth growing
(Read article summary)
A nice native plant with many good growing qualities, Arkansas blue star shines in the fall garden. It was recently named the Perennial Plant of the Year for 2011.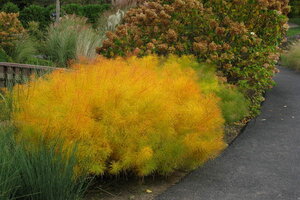 Courtesy of Betty Earl
Arkansas (or threadleaf) blue star (Amsonia hubrichtii), the Perennial Plant Association's Perennial Plant of the Year for 2011, is a graceful and long-lived native plant. It's known for its fine foliage, clusters of steel-blue flowers, and incredible fall color.
There are plants that scream for attention with the first hello. Others, like some skilled magicians, patiently wait for the audience to cast its attention elsewhere before jumping out of the top hat to a glorious ... taah-daah!
In my neck of the woods, that cuddly bunny is Arkansas blue star. Throughout the hot summer days, it blends inconspicuously into the landscape. But come fall, it gussies up in a stunning shade of glamorous golden-yellow foliage that knocks your socks off at first sight.
A plant with many excellent qualities
And strong color wed with a graceful form is nothing short of a winning combination.
In general, blue stars deserve greater respect – and a much wider audience. They may not be the glamorous, celebrated, and well-known divas of the garden; but they flower reliably year after year, are neither pushy nor invasive, they rarely fuss about soil or light requirements, and they are hardy.
They need no staking, no deadheading, no pinching, and are susceptible to few, if any, pests or diseases.
So, though the elegantly arching Amsonias will never be the summer show-stoppers that, say, a sensuous rose could be, but what more could you ask for in a plant?
---