World-record pumpkins: What does it take to grow them?
(Read article summary)
A new world record for the heaviest pumpkin was set earlier this month. Can any gardener grow an 1,800-pound pumpkin? If so, how?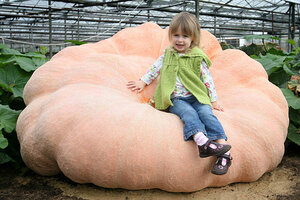 Newscom/File
A new pumpkin world record was set earlier this month by Chris Stevens of New Richmond, Wis.. It weighed in at 1,810-1/2 pounds.
How big is that? It "measures more than 15 feet around and is 4½ feet tall. It … contains enough flesh to make about 900 pies," reports The New York Times.
Kinda makes your mouth fall open to just think about a pumpkin that size. Then you begin to wonder: Could anyone grow one?
The answer is yes – if….
Basically, there aren't any real secrets to growing a punkin like Mr. Stevens's, but it does require a lot of attention -- constant attention.
Heat, water, and plenty of nutrients
Basically, you need the weather to cooperate: Lots of hot weather and frequent rainfall this summer really made a difference for Mr. Stevens. But he also fed his giant gourd with cow manure, fish emulsion, seaweed, and microorganisms. And watered it constantly when rainfall was lacking.
Some growers go to extraordinary lengths to coddle their giant pumpkins, says Karan Davis Cutler: They use outdoor electrical heaters; erect portable greenhouses and install shade cloth and irrigation systems; pollinate the flowers by hand; place fruits on protective carpets and turn them regularly.
To ensure the largest pumpkins possible, it's also important to leave only one pumpkin per vine so that all the plant's energy goes to it.
---