Three great plants are stars of my fall garden
(Read article summary)
The past year's weather was awful -- winter was too snowy, summer, too rainy -- but three great plants overcame all that to become garden stars in fall.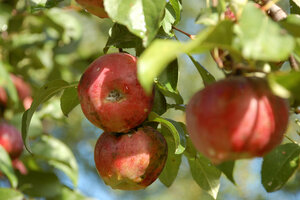 Courtesy of Craig Summers Black
After just about the snowiest winter on record (almost 50 inches!) and the third-worst summer in the nation (rain, rain, and more rain), we out here in fly-over country are finally catching a break -- Indian summer.
Three weeks after our average first freeze date, we've had only a couple of light frosts – just enough to kill the crabgrass and leave almost everything else green and lush, looking as if I had actually finished weeding the place.
Somehow the veg garden is still pumping out beans, peppers, and tomatoes. The Yukon Gold spuds are all in, but the sweet potatoes – which need a longer growing season – are still half in the ground, waiting to get bigger and sweeter. And it just may happen.
Three other things I like about this time of year:
• Apples: More than 10 years ago, when I first started the orchard, I was enchanted by heirloom/antique apples. I figured, hey, they didn't have chemical sprays back then, so they must do OK now without it. And every time I saw the words "one of Thomas Jefferson's favorites" in a catalog, I bought one.
Evidently, Tom never met an apple tree he didn't like, because I ended up with about 30 of them. (Unfortunately, I found that many of them suffer from all kinds of awfulness.) For insurance, I planted a couple modern-day, disease-resistant trees in the backyard. They are both Liberty, and, to my mind, the best- tasting of this genre.
---