A lifelong love of mums
(Read article summary)
Since childhood, this gardener has been surrounded by chrysanthemums, generating a lifelong love of the plants that brighten fall as no others can.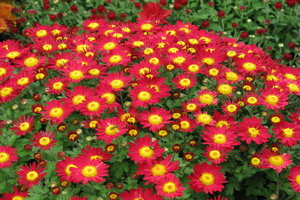 Courtesy of Betty Earl
I love chrysanthemums!
Chrysanthemums – or mums, as most of us refer to them – are the quintessential fall favorites, both in beds and borders and as cut flowers.
Hawked by every corner grocery store, supermarket, big box store, garden center, nursery, and farmers' market, they are best known for firing up fall with their incredible color.
Planted by the gazillions from single plants popped into containers adorning our porches, balconies, and front steps to the numerous varied or intricate displays at industrial parks, city parks, and botanical gardens, mums are, nevertheless, reviled by many.
During one of those rare moments of introspection that come sometimes when one reaches a certain age, I realize that I've spent many memorable and fun moments of my life in the company of mums.
The mums of childhood
In my own gardens, I never thought of my gangly plants as some horticulturally exotic friends, but rather more as constant companions -- warm and fuzzy remnants of my childhood.
I remember clearly those overcast, crisp October days when as a mere child I trailed behind my mom or grandmother as they strode about their garden ablaze in vivid gold, bright purple, pale lavender, creamy white, butter yellow, and bold red mums stuck in odd places, hither and yon, throughout their small yard.
I would lug a bucket nearly as big as I was – or so it felt at the time – filled with a few inches of water to hold the precious blooms of the dozens upon dozens of stems of the bright, bold beauties they cut off right before the oncoming frosts. Later, back in the house, hours were spent in creating dreamy arrangements full of multi-hued color with these vivid blooms that decorated the house for weeks.
---