It's time to take coleus cuttings
(Read article summary)
Want plenty of coleus plants next spring? It's easy to take cuttings and root them now.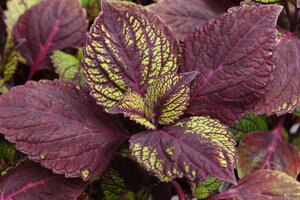 Courtesy of Karan Davis Cutler
In Vermont, we've already had three light frosts, which means I should have taken coleus cuttings three weeks ago. The goal with coleus is healthy leaves, the plant's reason for being. Most gardeners remove any flower spikes that appear.
What spectacular leaves they are, and new cultivars with brighter and bolder and more colorful foliage appear every year. Names such as 'Burgundy Giant', 'Killer Gold', 'Cherry Ribbon', 'Black Lace', 'Lime Frill', and 'Frizzy Yellow' give you an idea of what the coleus fanciers are up to.
Botanically, coleus has been reclassified from Coleus to Solenostemon scutellanoides, a name I can neither pronounce nor remember. It's also known as painted nettle. "Painted" for the vibrant, patterned leaves, "nettle" because "repeated and frequent contact" with the plant has been said to cause minor skin irritation.
Don't be alarmed, though: I've never met anyone who even used gloves to handle the plants.
A fashionable plant that's simple to grow
A garden favorite of the Victorians, coleus almost disappeared from trendy gardens for decades but recently has been rediscovered and now routinely appears in très chic planters on the terraces of people who pay someone else to do their gardening. Très simple.
In fact, both growing and propagating coleus are très simple. Coleus need well-drained soil that is rich in organic matter, modest feeding, because too much fertilizer lessens leaf color, and even soil moisture. Last, pinch out the terminal bud of main shoots to encourage side branching and more leaves.
Contrary to popular belief, coleus are not just for shade. Most can be planted in a sunny locations but will require more water. Strong light also darkens leaf color, so be warned that a red variety grown in the shade may be burgundy in the sun.
---