Fall yard decorating: Scarecrows, pumpkins, and mums, oh my!
(Read article summary)
With some creativity, traditional fall yard decorations such as pumpkins, scarecrows, and mums can make your property a standout until Thanksgiving.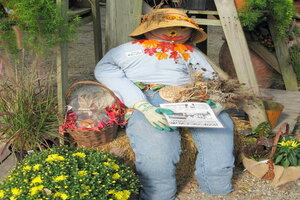 Courtesy of Betty Earl
As the days grow shorter and temperatures continue to fall, hay bales, scarecrows, pumpkins, and mums are popping up all over town. One of the most familiar figures of the rural landscape, these fun symbols of the harvest season become cleverly themed and colorfully decorated seasonal yard art.
Some creations capture the essence of fall, while others are simply whimsical, charming, and funny.
Not just a Halloween project
Decorating the yard for fall is full of possibilities. Obviously, Halloween is the main draw … from the kid-friendly fun of pumpkin carving and decorating to the full-on fright fests of haunted houses, hayrides, and corn mazes.
But that's simply a starting point.
The beauty of some of these decorations is the fact that with a few minor changes, such as replacing the scarecrows with a few Pilgrim and native American figurines in mid-November (click here to see some very creative ideas for outdoor figurines and also check this HGTV page for videos of more traditional scarecrows), or with pots of luscious cool-weather pansies and ornamental kales and cabbages, one could easily extend the display right through Thanksgiving in most climates.
Pumpkins and other gourds come in many shapes and colors, and adding a few mums and multihued ornamental cabbages, or dried leaves in vibrant fall colors for some natural texture is all that is needed to decorate a yard – from the mailbox to the front entry – for fall.
Glamorous pumpkin bling
However, yesterday evening on one of the Victorian covered porches in town I saw one of the neatest fall ideas:
On a little table next to the front door, beside the pots of colorful mums and ornamental cabbage, there were pumpkins and gourds of various sizes and colors decorated with bling.
---