Spectacular fall foliage from an unexpected source: blueberries
(Read article summary)
Gardeners look for plants with spectacular fall foliage, but they may not consider blueberries. Here are two exciting new blueberries to try.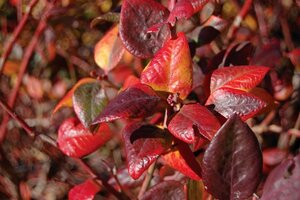 Courtesy of McCorkle Nurseries
I often recommend that homeowners plant blueberries because they're one of the easiest fruits to grow, with few insect and disease problems and therefore little or no spraying is required.
And they fit into a yard anywhere a medium-size deciduous shrub would go, since that's what a blueberry basically is (albeit a bush that produces delicious fruit).
But one of the best reasons for growing blueberries becomes evident after the berries have all been eaten or tucked away into the freezer. It's bright red fall leaves.
Since many people like to have several shrubs or trees in their yard that have spectacular fall foliage, planting a couple of blueberries accomplishes two things – they provide summer fruit and autumn color.
I'm currently growing two interesting new blueberries that will be available in nurseries next year. Not only do they have excellent red foliage, they also overcome one of the typical drawbacks of blueberries for a small yard: They're self-fertile.
That means that you don't need two shrubs for cross-pollination. One is sufficient.
Blue Suede for early-season berries
Blue Suede [PDF] is a rabbiteye blueberry for Southern gardeners (Zones 6a to 9a, the developers estimate).
See its glorious red leaves the photo above. This plant is being released by the University of Georgia and the USDA Agricultural Research Service. Berries are large, nicely colored, and tasty.
Blue Suede also ripens early and bears over a long period of time, desirable traits in a home-grown berry It will even grow in a large pot on a patio.
This new blueberry is being marketed by Gardener's Confidence and will be available in nurseries in the spring of 2011.
Are you ready for a pink blueberry?
---