The ultimate in easy ponds - almost
(Read article summary)
I wanted to create a simple, easy pond. What could go wrong? Let me count the ways....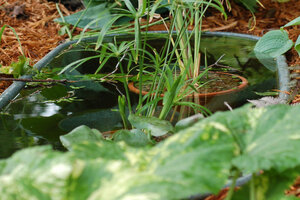 Courtesy of Craig Summers Black
I was never seduced by those "EZ 1-2-3!" garden articles about creating a water feature.
Seems like they all said was, "Just dig a hole! Just throw down a liner! Edge it with rocks! Voila: It's your new pond!"
I've seen the results of these installations. They look like mortar craters filled with split-pea soup.
Because you really do need an electric filter. And a pump. And running water. And house hookups and trenching to hide the wires and pipe and assembly.
Otherwise: Algae. Dead fish. Large eyesore. Irate wife.
Small pond using equipment on hand
So I thought I'd do water gardening on a much smaller scale – an installation of such a size that the entire pond could be actually removed come the onslaught of winter. No fall cleaning, no hip waders, no frozen fingers.
Well, it almost worked.
Because I sold all my llamas and miniature fainting goats and the little donkey, I had an empty galvanized-steel water trough of just the right size. Not too big, not too small: A Goldilocks kind of water feature.
So I dug a hole, used builder's sand as a base and for ease in leveling the trough, and put in just enough water for the trough to settle into the sand. Then I tweaked it a little at a time to get the trough perfectly level, put in a half-inch layer of pea gravel, and filled it all the way with water.
With the addition of a little mulch around it, you could barely tell there was a big ol' honkin', shiny piece of agricultural equipment down there.
Now for the fish
Add a few edging plants, surround with tropicals and – hey! – time to go fish shopping. I went the cheap route and got a 1-inch-long catfish to help keep down the algae and a handful of mosquito fish to cut down on the bug bites.
---