Grow cranberries in your home garden
(Read article summary)
This time of year, having homegrown cranberries is a real treat. If you live in Zones 2 to 6, it's easy. No bog needed.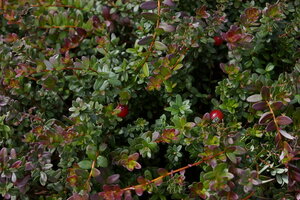 Courtesy of Doreen Howard
My family is enjoying, almost to the point of gluttony, cranberry muffins, cranberry relish, and apple-cranberry tarts throughout this holiday season.
I have only one plant and this is its second year in the ground, so all the cranberries are used fresh. But I'm anticipating the vine will spread, increase berry production, and I'll have enough to dry. That's the plan.
About 100 miles north of my home, a large portion of the country's cranberries are grown, about 285 million pounds. Along either side of Interstate 94 north of the Wisconsin Dells, flooded fields of red berries bob awaiting mechanical scoops that harvest them in late September. They are a gorgeous sight.
Surprisingly to many, the red berries don't need a bog or swamp to grow, although they do grow naturally in boggy areas.
Cranberry growing requirements
What they require are acid soil, wet feet, and full sun in any climate from USDA Zones 2 to 6. Warmer areas are too hot for the vines.
I ordered a four-year-old plant that was guaranteed to bear fruit its first year in the ground. It came with explicit planting instructions, and I followed them exactly with great success. Almost a pound of cranberries were harvested the first year.
My soil isn't acidic; it's the end of a former glacier full of limestone with a pH of 7.4. I dug a 12-inch-deep pit, two feet wide and four feet long. The soil was replaced with half sharp sand and half peat moss. To this mix, I added one cup each of bone meal, blood meal, Epsom salts, and rock phosphate.
After the bed was thoroughly watered, I set the plant about a half inch below soil level. Shredded bark mulch and pine needles were layered to create a two-inch-thick mulch. The vine was nearly buried!
---