The 2011 seed catalogs are valuable gardening tools
(Read article summary)
Dreaming of 2011's garden bounty? A great way to start is with seed catalogs. You'll learn a great deal.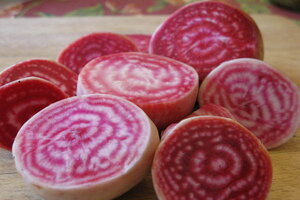 Courtesy of Betty Earl
The arrival of the first of many 2011 seed catalogs quickens the heart of any true gardener, for seed catalogs are one of the most practical of tools in planning a garden.
Amid all the baking, shopping, and well-wishing, it is a wise gardener who takes a few moments to think of next year's garden.
And if you think about it, winter is the perfect season to indulge oneself in dreams, for there are no bugs, weeds, drought, mildew, or blight – just glorious visions of that perfect vegetable garden.
If you've been gardening for many seasons, you probably already have your favorites --you know, that core group of trusted vegetable varieties you've grown year after year for their reliability, ease, and flavor.
If you are new to the wonderful world of veggie gardening, you are in for a real treat, for your choices are almost limitless.
Don't judge the plant by its picture
However, whether seasoned or newbie gardener, remember that we are all vulnerable to get caught up in the enticing pictures and descriptions, especially of the "bigger, better or more colorful" varieties.
So it's not surprising that we may forget what did poorly for us in past growing seasons, or, even worse, end up with so many more seed packets than we can ever grow.
So, don't judge a vegetable by its glamorous picture. Chances are good that the beauty queens destined for photography were grown under optimum conditions and the photographer scoured through numerous cucumbers, tomatoes, and beans to find that "perfect" veggie suitable for a photograph.
Your results will vary, depending both on the weather and the amount of time you actually spend in the garden.
Read before you buy your seed … and plan ahead
Apart from proper soil preparation, the key to success is in determining what should and shouldn't be planted.
---