Fairy gardens unleash the imagination
(Read article summary)
Fairy gardens are imaginative miniature landscapes that give the illusion of tiny creatures living there.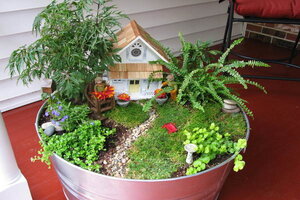 Courtesy of Betty Earl
The long-awaited holidays are over. Now there is nothing to distract me from what lies ahead: months of bitter cold, vicious wind, and fearsome ice.
During these long, cold, drab days of winter, I spend a lot of time going through photos of the incredible gardens I had the pleasure of viewing this past summer.
The purpose for this activity is twofold: to catalog the photos for future reference and to see what lessons – or trends -- can be gleaned from the various gardens I have seen.
What I notice immediately is the immense popularity of fairy gardens in the home garden. For centuries, mankind has been fascinated by the mystifying legend of fairies, of so-called "wee folk" who can be kind to us humans or be mean and mischievous.
While concrete evidence of the existence of fairies is, naturally, rather hard to come by, adding fairy gardens within our landscapes is one way to we can participate in this beautiful centuries-old tradition.
And creating these gardens of whimsy takes little more than a tad of fairy knowledge, a bit of imagination, and a small patch of space in your landscape.
Though undoubtedly a fun project for you and your children, transforming a small patch or corner of your yard into a place for fairies would enjoy playing and frolicing, also allows your inner child to soar again.
What are fairy gardens?
They are miniature gardens within the landscape that give the illusion of tiny creatures living there. Ideally, fairy gardens are located in small, somewhat secluded parts of the garden, giving the visitor the feeling that they just happened to "stumble" upon a magical place.
But then, just as many fairy gardens are planted in containers, kept safe by the front door.
Creating a fairy garden
---