How to grow and cook asparagus
(Read article summary)
A gardener and a chef team up with advice on growing and cooking asparagus.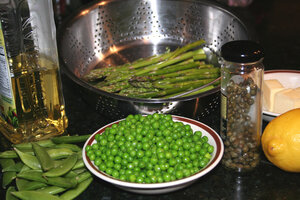 Courtesy of Anne K. Moore
Some foods just naturally make me (Anne Moore, the gardener) think of spring. Asparagus is one of those early delights. Right now, the supermarket has it in abundance, but at a premium price here in the South.
The price seems high until I stop to think about how asparagus has to be grown. This could be the year I find room for a tender plot of green shoots. 'Martha Washington' is an old standby but I might try the all-male 'Jersey Giant'. It is supposed to produce a bigger crop.
How to grow asparagus
If you want to grow your own asparagus, don't forget to prepare the soil before you plant. Since asparagus is a perennial, it will come up year after year if you start it out correctly. This is the only opportunity you will have to get the soil right for the life of the patch.
Dig copious amounts of well-rotted manure or compost into the soil, and then check the pH, which should be 6 to 8. Sandy, good-draining soil with plenty of organic matter is the ideal planting medium.
Asparagus roots usually come to you bare. Soak them in a bucket of water while you prepare their bed. Don't let them dry out. Dig trenches 36 inches apart using your asparagus roots as your guide for the depth.
After your trench is ready, build mounds in the center, about 18 inches apart, and fan your asparagus roots over the top like an octopus. [See second photo above.] Plant them with the crown just barely under the soil surface. Fill in the trench carefully and water it well to settle out any air pockets.
Wait before you begin to harvest
Let the asparagus grow and establish for a year before you harvest any shoots.
The spears can be harvested only for four to six weeks in the plants' second year. In their third year, you can harvest for about eight to 10 weeks, until the spears get very skinny.
---