Great gardening project: Create a succulent pillow
(Read article summary)
Creating a pillow that holds succulent plants is an easy gardening project that will dress up your porch or patio.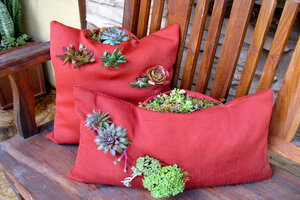 Photos courtesy of EdenMakersBlog.com
Before I give you a step-by-step breakdown, I want to let you know that I developed the succulent pillow for a presentation on "Functional Garden Art" that I was doing for Walt Disney World's Epcot International Flower and Garden Festival a few years ago.
My "muse-finding radar" was set on high as I prepared for my Disney stage debut, and my goal was to present "out of the box" design ideas. It was a tough assignment, and inspiration was slow in coming.
Idea from an unexpected source
Thankfully, I found my inspiration when I was least expecting to.
I was watching the movie classic by Orson Wells "Citizen Kane," when some beautiful tapestry curtains in one scene captured my attention.
My eye always focus on flowers and plants in movies, so I was captivated by the pattern of the cabbage roses in the tapestry curtains. (For some reason, the shape of the cabbage roses reminded me of the rosette form of the potted echeveria plant that sat next to my sofa.)
"Hmm, maybe I should create a tapestry curtain from succulents," I thought.
After a few minutes of pondering the construction details, I refined the idea and scaled down to succulent pillows. Pillows would be much more practical to construct.
---