Gardening for the birds and wildlife
(Read article summary)
Winter is a good time to think about how to attract birds to your garden with a wildlife-friendly habitat.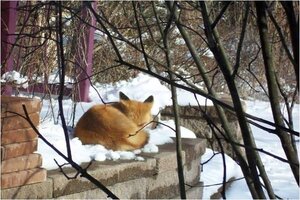 Courtesy of Nina Koziol
As large, slow-moving snowflakes drifted down on New Year's Day, a male red fox trotted down the steps past my garage and made his way to the patio. The surrounding border of perennials was covered with nearly a half foot of snow, and the ornamental grasses were bending in the wind.
This fox, on a mission for a meal, proceeded to tilt his head towards the perennials, as if listening to the dried, rustling coneflowers. Several times he stuck his snout deep into the drifts of snow, but came up empty.
After marking his territory on several bushes and the mailbox, he made his way back into the woods. My New Year's wish is that he comes back often this year to take care of the mice and meadow voles that have been dining on my tulip and grape hyacinth bulbs.
Winter forces gardeners to take a break from all the things that preoccupy us during the growing season — planting, pruning, weeding, fertilizing, watering, cajoling and cursing our plants.
February is a great time to pull up a chair and observe what's taking place in and around your garden. And one of the best spots for action is the bird feeder.
Our feeder hangs outside the kitchen window and is a daily magnet for a flock of American tree sparrows, as well as a few chickadees, slate-colored juncos, two types of nuthatches, a lone goldfinch, two squirrels that think they are birds, and two female cardinals.
Before West Nile virus arrived in Illinois, the woods nearby were home to the tufted titmouse, a shy bird that looks like a miniature gray cardinal. This unfortunate disease has decimated the local titmouse population as well as other bird species, but we hope that they will make a comeback as some of the surviving birds build up resistance to the virus. Providing fresh seed and keeping feeders clean is said to be key to protecting birds from other diseases and illness caused by rotting, moldy seed.
Creating a bird-friendly habitat
---