Tips to attract bees to your yard
(Read article summary)
If you want to help bees, those pollinators of most of our fresh vegetables and fruit, here are some tips. First, learn to live with dandelions.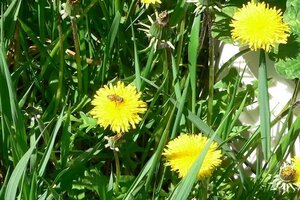 Courtesy of Jane Shellenberger
On the plains in northern Colorado, gardens are asleep under a few inches of snow but honeybees are stirring. My husband, Oscar, keeps a few hives, and he likes to sit and observe them for at least a little while every day, or longer when he can.
Recently, as temperatures climbed after a frigid week, we watched several hundred bees tumble out the entrance to their boxes and buzz around the hive in a loose cluster. A few flew right into the snow and some landed, dazed, on their backs. They buzzed around upside down, digging themselves in deeper until they managed to either flip over or wear themselves out.
Others crept around feebly, becoming colder and weaker. A theory suggests that bees mistake snow for the sky.
Our cat stalked the shaky, grounded bees, but Oscar held her off with snowballs. He picked up some bees and warmed them in bare, cupped hands. He says when they came to and flew off his hands, it felt as though he helped recharge their life force.
There are still two months until their first major food source is available -- dandelions. Not everyone appreciates bees (or dandelions) the way beekeepers do.
Most people confuse bees with wasps and worry about getting stung. Oscar worries about "his" bees flying when it's too cold or getting swept up by a sudden, strong gust of wind. The warm Chinooks can top 80 mph this time of year. And there are overarching concerns about bees disappearing and colonies collapsing.
Several years ago I planted a hedgerow of Nanking cherries and a small mixed orchard. We've noticed a big increase in fruit production since the bees joined us.
Bees and blooms
---