Growing amaryllis outdoors
(Read article summary)
Save a couple of the amaryllis bulbs you bought this winter and plant them outdoors in the garden. Yes, even if you live in the Midwest!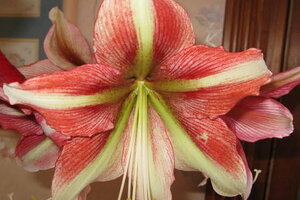 Courtesy of Bety Earl
As discussed in my previous post, amaryllis make wonderful houseplants – and gift plants – for the holiday season.
What's not to like about them? They bloom freely indoors; they are affordable; the large, showy flowers make a big, bold statement; and they are available in an ever-increasing variety of colors, shapes, and sizes to fit any taste.
Additionally, they are not difficult to grow and, if the plants are treated correctly, will rebloom year after year.
However, although I pot up some amaryllis in October and November, I prefer to wait till late January or early February to get the majority started.
After all, Christmas already has so much glitz and glamour surrounding it with all the lights and decorations, why not save something special to decorate the house with later in the season.
But there's another option: Save some bulbs to plant outdoors.
Amaryllis outdoors in the Midwest
Now you might think Midwest gardeners can't grow amaryllis outdoors – but I say, think again. It's true they are not hardy outdoors in Northern climes, but that doesn't mean they can't be treated like dahlias or gladiolas – grown outside during the summer months then lifted come September.
Amaryllis plants outdoors in the landscape are a gorgeous sight!
---