Pressed flower pictures, works of art at the Philadelphia Flower Show
(Read article summary)
Of all the outstanding exhibits at the Philadelphia Flower Show, take a careful look at the pressed flower pictures. These aren't the sort of thing your grandmother made. They're true works of art.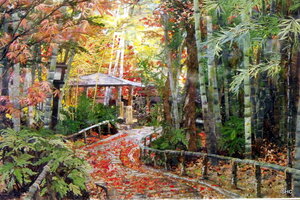 Courtesy of Denise Schreiber
Like many people, I appreciate art in all of its forms. I, on the other hand, am artistically challenged. My stick people look like the missing link, with their knuckles dragging on the ground. I have trouble tracing an object onto paper.
The colors of Monet intrigue and pull me into another world. This is a world where I can visualize any and all things that I would like to create to make my heart happy. I do know that this will not happen so I will enjoy the beauty that I see.
Off to see a famous flower show
In a few days, I'm off to the Philadelphia Flower Show for the 22nd straight year. Open this year from March 6-13, it's the oldest flower show in the United States, and visitors are guaranteed to come away with tons of ideas, plants, and other goodies.
I know that I'm going to smell the flowers that promise me that spring is right around the corner and the snow will fade away. I will visit the juried exhibits, works of plant art that have been babied and loved, some for many years. There will be landscape exhibits filled with the dreams of gardeners and unlimited resources, and floral arrangements created with the whimsy of the designers.
A special kind of floral art
But my favorite exhibit is the pressed flower pictures. Not the old-fashioned kind we used to see at our grandmother's house with a heart made from pansies. These pictures are works of art with flattened leaves and flowers providing the oil colors of the masters.
---