Do you know the Mardi Gras plant?
(Read article summary)
Common names for plants can be colorful and descriptive. Maybe you've heard of dooryard plant or hearts a bustin'.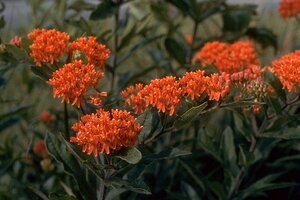 Photo by Clarence A. Rechenthin. Courtesy of USDA NRCS Texas State Office
I feel like Colin Firth today, but not because I've won any awards. In his acceptance speech at the Oscars recently, Firth admitted to "stirrings" which could, at any moment, set his legs to dancing.
For my entire life, the road to New Orleans has made me want to second line all the way, so I know those stirrings. I'll be dancing down the river this week to visit with gardeners and photograph their gardens, and, yes, do a little parading.
Local flavor
Some say we talk funny down South, where "ya'll" and "whodat" prevail. Our English vernacular can be colorful and extends to the common names we give to plants. Usually the names come from a place or way the plants are used, and as long as we all know what we're talking about, it hardly matters.
For example, one of the first photographs I took in New Orleans after hurricane Katrina shows a clump of Ruellia blooming wildly at streetside. Its blue trumpet flowers give rise to the name Mexican petunia, but around here, it's known as "dooryard plant" because it so quickly fills the space beside the back door steps.
Clerodendrum bungei, a bully of a plant with large, dark leaves and a big pink flowerhead, has fans and detractors. Those who appreciate the nectar-filled flowers call it Mexican hydrangea, although it is neither. But those who find its habits and odor offensive have ironically named it Cashmere Bouquet or, more descriptively, Kashmir Bouquet. It definitely does not smell like the popular sweet soap of the first reference, but those who know say its aroma is more like the wet goats of Asia.
---