Urban gardens take root in unconventional places
(Read article summary)
In urban gardens from Chicago to San Francisco, enthusiastic growers make do with whatever space is available, no matter how unconventional. Carrots grown on a paved basketball court, anyone?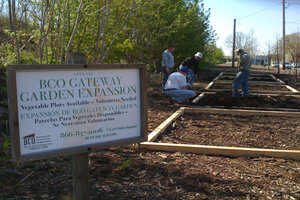 Courtesy of Christopher Weber
As far as we know, Jesus wasn't a gardener, but in the Bible, he sure talks like one. If taken literally, his famous Parable of the Sower could be subtitled "Gardening 101": Cast your seed in the good soil, not on stony ground.
I bring up this biblical story because an increasing number of gardeners are rebelling against this seemingly faultless garden logic. Namely, they're sowing seeds in the rockiest, least hospitable ground available.
Gardens spring up in surprising places
In Chicago, there are gardens built on land formerly occupied by a burned-out tavern, an illegal chop-shop for dissecting stolen cars, a truck depot (still paved, by that way), a basketball court (ditto), and more than a few well-salted road shoulders.
Such sites are obviously far from pristine. They're the desert in "food deserts" — fallow, forbidden ground that would not be touched were interest in gardening not stratospherically high.
These reclamation projects offer a heartening counterweight to the Great Recession's foreclosure epidemic. What greater underdog story can you find than a gardener trying to coax carrots from asphalt?
With many hollowed-out urban neighborhoods light years from redevelopment, why not put down a few roots? Doing so literally brings hopeful new life to the 'hood.
In fact, there are even nonprofit organizations that exist for the purpose of creating reclaimed gardens. One in Chicago is called NeighborSpace. It helps would-be gardeners secure the title for empty lots and installs water spigots on their behalf.
---