How to grow and prepare tomatoes
(Read article summary)
A chef and a gardener give advice on growing and cooking tomatoes. Plus a delicious recipe for tomato pie.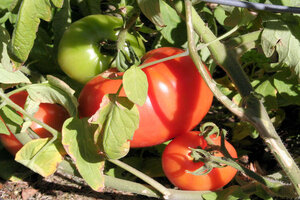 Courtesy of Anne K. Moore
Tomatoes come in all shapes and sizes and in all kinds of flavors. I [Anne] grow my own so that I can get that perfect taste, picked on that perfect summer day. Well, maybe not perfect, but that is how I remember my childhood tomato experience.
Tomatoes are easy to grow from seed, and seed is available in hybrid and heirloom varieties. Heirlooms are all the rage right now, but remember, they are susceptible to more garden diseases then the hybrids, which are bred to withstand many of these attacks.
Good tomatoes in the South
My own personal tomato favorites are hybrids Better Boy, Park's Whopper, Delicious, Big Beef, and heirlooms German Giant, Black Krim, and Cherokee Purple. As you can see, I like my tomatoes big. I also like a small one, Sun Gold hybrid. It is yummy.
If you want to obsess over tomatoes, order the catalog from Tomato Growers Supply Co. You will be hard pressed to keep your list below 10.
You can buy several packets of tomato seed and plant just a few of each. To keep the seeds for use in future years, seal the packets with tape and store them in a container with a tight-fitting lid somewhere cool indoors. Seeds should remain viable for three to four years.
Growing tomatoes from seed
Sow the seeds according to the packet directions six to eight weeks before your expected last frost. Tomato seeds germinate best at around 59 degrees F. (15 C)or above. I have found that a seed germinating heat mat is well worth buying.
Start the seeds indoors in cells or trays of sterile soilless mix. When the seedlings reach three inches tall, transplant them to four-inch pots.
The transplants can go into your garden when there is no more danger of frost and nighttime temperatures stay above 45 degrees F. (7 C).
---