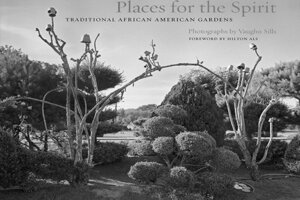 Courtesy of Trinity University Press
At the beginning of each year, I typically look back over the garden books I read during the previous 12 months and pick the best to recommend. But because I moved from Massachusetts to South Carolina last year, I was pretty sure that in the process, I fell off the mailing lists of various publishers and probably didn't get to see all the good garden books that were released.
So I asked garden-writer colleagues to step in and recommend what they thought were the best books they'd read in the previous year. Since there are a number, I'm breaking this into part 1 (today) and part 2 (click here).
"One of my favorite books this year was 'Boston's Gardens & Green Spaces' by Meg Muckenhoupt (Union Park Press, $22.95), says Hilda M. Morrill, columnist and editor who's in charge of the website Boston Gardens (no connection to the book).
It has "great photos, great information and history, and introduction to gardens I had never been aware of," she explains. "Much to look forward to! Good resource for both visitors and residents alike."
---