Reblooming lilacs: The hype and the reality
(Read article summary)
Josee and Bloomerang lilacs are sold as rebloomers, which will flower in late summer and fall as well as in spring. How do they really perform in the Midwest?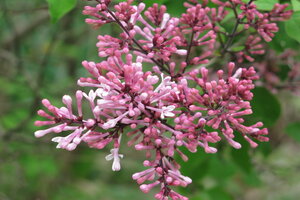 Courtesy of Betty Earl
Treasured for their gorgeous, lush blooms and incredibly intoxicating fragrance, lilacs are a longtime garden favorite, dating back to the mid-1700s when both Thomas Jefferson and George Washington grew them in their gardens.
A sentimental spring garden favorite of mine, the modestly named common lilac (Syringa vulgaris) has been the one bush I couldn't imagine not growing. Treasured for their big, flamboyant, oh-so-fragrant panicles of trumpet-shaped blossoms, lilacs are fairly carefree plants, often living for decades in the landscapes.
Some of my tried-and-true favorites, plants that enchanted generations of gardeners before me, include 'Charles Joly', a very prolific, very fragrant wine-red double flowered beauty; 'Sensation', dark red-purple blossoms edged in white; and 'Beauty of Moscow' (Syringa vulgaris 'Krasavitsa Moskvy'), a stunning beauty with double white flowers.
A newcomer to my garden, primarily because yellow-colored blossoms are an oddity in the lilac family, is the only yellow-flowered lilac (actually more like a very pale almost creamy yellow), 'Primrose'.
Finding a lilac blooming in fall
I admit that I fancy the oddities of the plant world. So I can't help but notice when reading current gardening magazines, the numerous ads for the "new reblooming 'Josee' lilac". A reblooming lilac! But as one of my garden club friends put it …"Is there such a thing as a reblooming lilac?"
---
Follow Stories Like This
Get the Monitor stories you care about delivered to your inbox.