Moss in a hypertufa dish garden
(Read article summary)
A dish garden of mostly mosses evokes a spirit of peacefulness and serenity. Mosses grow both inside and on the outside of the hypertufa container.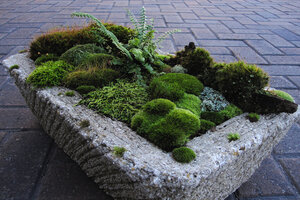 Courtesy of Ken Gergle
Ancient, primal, desirable: Moss evokes many emotions. When finding a moss garden, the desire to touch the moss is uncontrollable -- wanting to walk on it, feel it, stroke it.
This is how I felt the first time I saw a really well done moss garden. It was the home and garden of the late Richard and Barbara Urquhart, in Raleigh, N.C.
An amazing garden
I had heard of a moss garden in the area; the garden's reputation preceded itself. I needed to see this garden, to experience it, to know it. When I first laid eyes on the emerald-green blanket of moss, my normal frantic pace slowed, and within seconds, I felt peace.
This was to be a journey, not an ordinary garden visit.
Looking back on that day, I remember fondly how Mr. Urquhart spoke so highly and kindly of David Spain, the man who helped him create the moss garden the way it was at that time..
The Urquharts' moss garden was later shared with Steve Bender, senior writer with Southern Living magazine, who said, "The moss garden David created in Raleigh is simply one of the most amazing and beautiful places I've been."
As I got to know David Spain and his business partner, Ken Gergle, co-owners of Moss and Stone Gardens, I learned more about the kind of work they did. Yes, they create beautiful moss and stone landscapes, but they also create art in the form of moss dishes.
It's these dishes that are the focus of this blog post.
In it, we hope to expose you to mosses, to entice you to use mosses, to teach you about them -- their uses, sustainability, and the feelings of peace they create. We hope you enjoy your time with us.
---