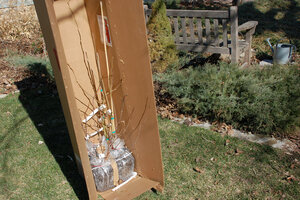 Courtesy of Craig Summers Black
Ever since I got rid of the "livestock," I've been planting trees. In my mind, that three-acre patch is no longer a grassy (well, weedy) expanse of pasture. It is a veritable forest with mown paths, a place to promenade. Maybe even ride dirt bikes.
But to your eye – and everyone else's – it's a flat expanse of turf with little tiny orange and pink flags dotting it like so much litter. Because you can't really see my 12-inch-tall trees from any particular distance.
Mail-ordering in the boonies
Well, if I could afford bigger trees, I would buy them. Then again, you can't mail head-high, branched-out arboretum material. And I do get almost all of my trees, and pretty much everything else -- perennials, CDs, clothes, even my "new" guitar – from the Net and in the mail.
It's not so much that I hate making the 55-mile round-trip to town to buy stuff. Nor the fact that if I did so, I'd have to pay sales tax. It's that I live in the middle of Iowa. I live in the boonies. There is barely a there there, not to mention decent nurseries or record stores (well, that dates me, doesn't it?).
So if I want to buy something even remotely adventurous, something besides a red maple or a tea rose, I pretty much have to do it by mail.
So here's my latest shipment of oddball woodies:
• A Magnolia x brooklynensis 'Woodsman': Multicolored! Blooms young! And it doesn't flower until late, so the buds won't get toasted if we get our usual late freezes.
---