How to grow and cook with dill
(Read article summary)
A gardener and a chef team up with advice on growing and cooking with dill. Included is an easy recipe for dill-topped, salmon-stuffed eggs.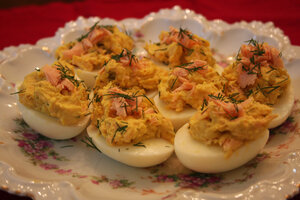 Courtesy of Anne K. Moore
Dill is a versatile herb, says Anne, the gardener. You can snip its ferny leaves to use as a garnish or let it flower and set seedheads to pick for flavoring.
Dill, like parsley, should be a staple in a butterfly garden. Black swallowtail butterflies lay eggs on the foliage. Be sure to plant plenty to share with the resulting caterpillars. They will munch some of your leaves before turning into those beautiful creatures you see floating overhead.
How to grow dill
Dill is easy to grow. Because of its taproot, it is best planted where it can stay. You should sow dill seed outdoors quite early in spring. It prefers cool soil for germination. Dill will withstand a late frost but you should get the seeds in the ground after the heavy freezes have passed in your area.
Sow the seeds in a sunny, well-drained spot. Barely cover them with soil. The large seeds are easy to space three to four inches apart. The little seedlings should appear in about three weeks.
Once they are up and growing, thin them out, ending with plants at least eight inches apart. Don't let their initial small size fool you. Dill can grow to be three to five feet tall and about three feet wide.
Care is easy. Keep the soil moist until the seedlings emerge and are well established. Then water the dill plants when they look droopy.
Be sure to harvest and preserve some of the ferny leaves for use later on. Kitchen shears make this chore easy. Take the longest side branches and leave the top to continue growing.
The plants will bloom and go to seed as the days lengthen and heat up. When summer has turned on the heat, the plants will die.
Cooks and gardeners with very little room can still grow a dwarf variety of dill indoors in a pot or in a corner of the garden. Its bluish-green, wispy foliage even looks at home nestled in amongst the flowers.
---