Southern California gardening: What to plant in April
(Read article summary)
If you garden in Southern California, April is the time to get busy and plant these flowers and vegetables.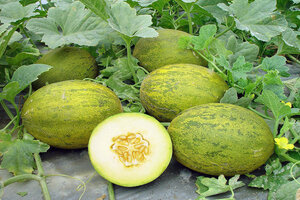 Courtesy of All-America Selections
Like our colleagues in areas where winter is beginning to end, April stirs those of us in SoCal to get busy in the garden. Our youngest son lives in Massachusetts, and in an e-mail earlier in the month he reported another four inches of snow, but said it was beginning to melt.
Fortunately, we don't have that problem, and April for us is a time to get serious about gardening and getting things done before hot weather arrives.
Sow seed of vegetables and flowers
We can sow seed of most vegetables directly in the garden this month, including beans -- both pole and bush -- beets, carrots, sweet corn, cucumbesr, kohlrabi, leaf lettuce, all melons, long-day onions, pumpkins, radishes, Swiss chard, spinach, and squash.
This late, it's best to set out plants of tomatoes and peppes, although you can start them from seed if you have controlled conditions, such as a small portable greenhouse and bottom heat.
Gardeners who have had trouble growing either bush or pole beans should try cowpeas. They grow just like bush beans, taste just as good when cooked, and are as good as dried beans.
Seeds of most herbs can be sown directly in the soil this month, too. Or you can buy plants.
---