How to grow and serve lettuce
(Read article summary)
A gardener and a chef team up with advice on growing and serving lettuce.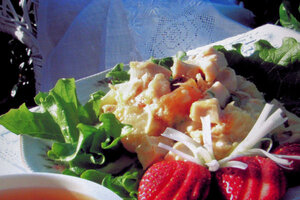 Courtesy of Linda Weiss
Lettuce likes it cool, says Anne Moore, the gardener, explaining how to grow the popular salad veggie. You will get your best stand of lettuce if the nighttime temperatures are below 70 F. (21 C).
Another deterrent to germination is planting the seeds too deep. Lettuce seeds need light to sprout, so barely cover the seeds with a thin sifting of soil.
You can scatter seed over a garden bed, row, or a container. Once the lettuce is up and growing, thin the little plants so that they have about seven inches between them. If you are growing a heading type, such as Buttercrunch, the plants should be 12 inches apart.
Lettuce needs a good deal of water, by way of faucet or rain, to grow into a decent cutting crop. Nitrogen is also essential for good leafy growth.
Use thick mulch, once the plants are up, to keep the soil cool and damp.
Watch out for hot weather
If the days turn to summer and the temperatures skyrocket, your lettuce crop will bolt. Bolting is just another garden word for sending up a seed stalk. Once this happens, the lettuce will develop a bitter taste and should be tossed on the compost pile.
But even if you live in a hot climate, you can get a quick crop of homegrown lettuce if you are careful in choosing the seed to plant,. It only takes a week or two for the seed to push little green plants up out of the ground. Some heat-tolerant lettuces include Deer Tongue, Bronze Mignonette, Oakleaf, and Buttercrunch, my personal favorite. All are somewhat slow to bolt.
During the warmer days of summer, shading the plants becomes more important. Using a shade cloth to enclose your lettuce bed will help keep the plants cooler and will keep insects off the leaves.
---