Enjoy iris season without borers
(Read article summary)
When tall bearded irises come into flower, they're the flowery focus of the garden. But be sure to get rid of iris borers so the show continues year after year.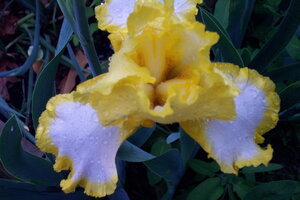 Courtesy of Donna Williamson
The bearded irises are blooming in northern Virginia, and they are having a good year. They are are tall, vibrant, and full of majesty.
That's in spite of a lot of damage to dogwoods and other plants from last year's heat and drought. Fortunately, irises love hot and dry weather.
With our heavy soils, I encourage folks to plant irises so the rhizomes gets some sun – not too deep. And I also recommend that they rip off all the foliage in winter to get rid of iris borer eggs, deposited in the fall and hatching in spring. (More on those pesky borers in a minute.)
Fleeting beauty
Iris colors are all over the map, from black and true blue to vivid bicolors and the most achingly beautiful shades of orchid, lavender, purple, and mauve.
It's hard to pass by a group of irises without a peek inside and a whiff of that rich grape fragrance.
I would love irises even more if they stayed beautiful longer, but they are part of the changing flower parade in Virginia, and the next in line is peony season.
How to get rid of iris borers
But the downside is we can't let our bearded irises go too long before they develop problems from iris borers.
I have often shown my clients how to clean out the iris borers from rhizomes and cut out the soft rot that follows them. The odor of soft rot is distinctive and definitely not grape.
The part that I enjoy most is when the client goes from "how can you touch that" to "die, borer, die" and dispatches the fat pink larvae themselves. A quick rinse in bleach enhanced water and drying in the sun saves the rhizome.
---