Variegated rhododendrons: A 'wow' factor in the landscape
(Read article summary)
Landscape design: Variegated rhododendrons are impressive, but what you plant with them can also help light up the garden. Here's a designer's advice.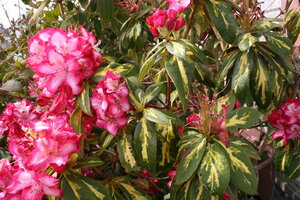 Courtesy of Genevieve Schmidt
In my coastal Pacific Northwest climate, rhododendrons are a sure winner for nearly every circumstance. They enjoy the partial shade and acidic soil under our native redwoods, deer don't bother them, and they're very low-maintenance if given composty soil with a thick layer of mulch.
Showy foliage is the star of the show
I'm fortunate enough to have the rhododendron specialty nursery Singing Tree Gardens only 20 minutes away from my house, so I stopped by the other day to see what was blooming. While the blossoms were stunning, what really caught my attention were the variegated rhodies with cream or gold foliage color.
While a stand of carefully chosen rhodies can bloom successively from January through June in our area, the foliage is the star of the show for most of the year. Variegated rhododendrons show up beautifully in the partial shade conditions they prefer, lighting up a shady spot and bringing brightness and cheer to your planting bed.
Four favorites and what to plant with them
Don Wallace, owner of Singing Tree Gardens, was kind enough to share photos of these rhodies in action, since they weren't all blooming when I visited. Here are some of my favorites:
Rhododendron 'Unique Variegated' has a lovely rounded form, cream-colored flowers, and reaches five feet or taller in time. While the normal 'Unique' is known for having even, oval-shaped leaves with a refined, shiny appearance, 'Unique Variegated' has leaves that vary in shape, giving it a more textured look. [See first photo at left.]
The new growth is variegated in cream, fading to a yellowy-gold as the leaves age. Plant 'Unique Variegated' with Pieris 'Little Heath' nearby, to set off the creamy-gold color in the leaves.
Rhododendron 'President Roosevelt' brings a circuslike festivity to the March garden with its vivid reddish-pink blooms with white centers. [See first photo at top.] Some call the flowers gaudy, but with our overcast, rainy winters, many people crave a bold burst of color to start the spring show right. [See second photo at left; click on arrow at right base of first photo.]
---