How to grow and serve sugar snap peas
(Read article summary)
A gardener and a chef team up with advice on growing and serving sugar snap peas.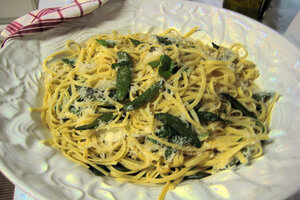 Courtesy of Linda Weiss
If you haven't grown sugar snap peas, you just don't know what you are missing, says Ann, the gardener.. These are the peas you eat whole, pod and all, without having to shell.
Along with the original Sugar Snap pea, you can try several varieties with names like Sugar Ann, Sugar Daddy, and Super Sugar Snap. They are sweet and crunchy right off the vine (many are stringless) and they are favorites for salads, stir-fries, and recipes like Linda's Sugar Snaps and Pasta, which follows.
My favorite is still the original Sugar Snap, even though it is tall, needs a fence to climb, and has to have its strings removed, just as old-fashioned green beans do.
Peas have to be planted early or late, as your climate dictates. In Northern climes, early spring planting is a bonus since gardeners can't wait to get their hands in the soil and get things growing.
When to plant sugar snaps in the South
Cool-weather plants such as sugar snap peas are a special trial in Southern gardens. They dislike cold, wet soils of winter, but are not suited to spring or fall planting because spring jumps into hot summer quickly most years, or fall soils are overheated by the intensely hot summer temperatures.
In my section of South Carolina, it is best to plant peas Thanksgiving weekend for an extra-early spring crop. Peas withstand temperatures down to 20 degrees F. (7 C).
If you are in Zones 7 or 8 and decide to try winter growing, remember that just because the pea seedling doesn't jump up does not mean it's languishing in the soil. Roots are emerging.
Green seedlings surface during winter warm spells, stop growing when the weather turns cold and icy, and then suddenly get growing in earnest, blooming and setting their pods in March and April.
---