Give a landscape time to mature
(Read article summary)
A gardener learns that a well-designed landscape just needs time to grow and look its best. Continual tinkering doesn't help.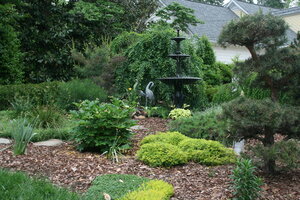 Courtesy of Helen Yoest
As I look around Helen's Haven evaluating what it needs to shine for upcoming garden tours and photo shoots, I realize that all it needs is time.
Most landscapes do.
I don't need to add a little something here or there. The design is set. Now I need to wait it out. This is the hardest part.
Nothing I do now will fill the gaps between the sedum, providing a tapestry of ground cover under individual specimen plants in the Red Bed. [See photo at top.]
Nothing I do now will make the boxwood fill in.[See photo at left.] My imagination sees a continuous line of boxwood serving as the repose between the formal and causal -- the boundary demarcating tameness and wildness.
Nothing I do now will leap the rose of sharon into adulthood.
Nothing I do now will mature a tree, providing a canopy for shady rest.
What I can do, has been done. Now, all I really need is time.
The gardener sees the flaws
By many standards, Helen's Haven is full, lush, and mature. It is I who see the holes, flaws, and flubs.
It is not a garden for everyone. No doubt, when someone visits for the first time, high maintenance comes to mind. I can honestly say, though, that Helen's Haven is not a high-maintenance garden.
Herein lies the problem. I like to putter in my garden and I run out of things to do, so I start tinkering. My thinking about tinkering is that if I add more, it would serve as a gap filler until the garden matures.
But I really know that this tinkering must stop. All my garden needs now is time.
Don't be mistaken; there are many areas of improvement, and, of course, regular maintenance -- deadheading, dividing, pruning. I also need to edit out
earlier tinkerings.
---