Hardy ice plants produce a vivid display in Western gardens
(Read article summary)
Ice plants, native to South Africa, have become popular in Western gardens, as they sparkle, shine, shimmer, and tumble over rocks.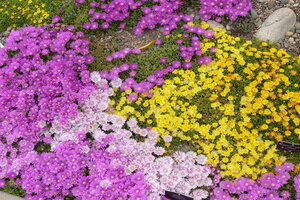 Courtesy of Jane Shellenberger
Twenty years ago, most Coloradoans were growing traditional water-loving English garden plants because that's what nurseries carried and gardening books featured.
But persevering xeriscape pioneers and a number of regional plant people, especially Panayoti Kelaidis of Denver Botanic Gardens and David Salman of High Country Gardens in Santa Fe, N.M., have sought out, introduced, and helped popularize numerous beautiful plants for Western gardens.
The palette of currently available ornamental plants that thrive in our high, dry Western conditions is enormously varied. This isn't too surprising considering that steppe regions have the greatest plant diversity of any geographic areas worldwide, though all are severely degraded from overgrazing and human development today.
Long-lasting show-stoppers
Stunning hardy ice plants (Delosperma), from which Mr. Kelaidis first collected seed during his plant explorations in the Drakensberg Mountains of South Africa in the late 1990s, have become signature plants here, lighting up gardens throughout the West. [See both photos at top; to access the second photo, click on the arrow at the right base of the first one.]
---