Garden design: Solutions for improving side yards
(Read article summary)
How one gardener turned a small horticultural wasteland into a delightful part of the yard.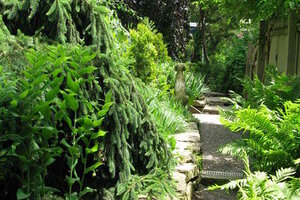 Courtesy of Betty Earl
Here in the Midwest, the annual plethora of the many various garden walks staged by garden clubs, homeowners associations, charity groups, and master gardeners is in full swing.
Whether you want to drive, walk, or bike, garden tours are pure eye candy for gardeners seeking new ideas, looking for a time to visit with fellow gardeners, or simply wishing for a bit of fun and inspiration.
Side yards generally overlooked
As I traipse through one beautiful yard after the next, I find the long narrow "side yards" with their tall fences or dense-growing evergreen screens between homes as some of the most underutilized areas in the landscape.
Side yards are those tricky areas between a house and its property line. Most of us use these areas merely as passageways between the front and back yards, a place for the air-conditioning unit or the storage of trash and recycling containers.Generally, grass doesn't grow well there, and the scraggly bits that do are a nuisance to cut.
So some homeowners simply put their blinders on and resignedly tolerate the area. And that's a real shame, since every square foot of outdoor property is horticulturally valuable.
Small, narrow side yards can be perplexing to gardeners who don't know which plants and trees work in a constricted space. The good news is that not only can you find appropriate plants for these small garden areas, you can also design a narrow yard to look and feel much larger that it actually is.
With the addition of structures such as arbors and gates and wisely chosen plants that complement, but won't overtake the already limited space, that little corridor can become more than just a trampled path between the front and back yards; it can become a garden.
Gorgeous side yard
At the second to last house on a recent walk, I discovered a treasure. A beautifully landscaped front and back yard, linked perfectly with an attractive side yard garden!
---