Starting over in the rose garden
(Read article summary)
The challenges and rewards of starting a new rose garden after moving.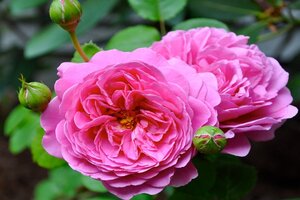 Courtesy of Lynn Hunt
Moving from the Chesapeake Bay in Maryland to the mountains of North Carolina has been a formidable learning experience.
For starters, I'm learning how to negotiate harrowing hairpin turns without flinching. I'm also learning how to treat chigger bites on my arms and legs by painting them with clear nail polish (even though experts say it's a waste of time.)
And I'm learning how time-consuming and expensive it is to create a new garden virtually from scratch.
Of course, I had to leave my cottage garden behind on the Eastern Shore. I called it my "tidy mess," as British garden author Christopher Lloyd would say, composed of a jumble of flowering perennials and more than 50 roses.
The new owners kindly offered to let me take a few of my favorites, but the timing was wrong for moving plants. So, in the end, I brought only my obelisk with me.
What works in the new landscape?
When we first bought the property in late 2009, we inherited a much smaller garden with two 60-foot-by-10-foot areas on either side of a porch. (The backyard slopes steeply down to a stream and is suitable only for native plants, ferns, and wildflowers, not roses.)
The existing garden consisted of some diseased evergreens, wild blackberry bushes, a few recognizable perennials, and a holly tree that was far too close to the house.
---