Declare your lawn independence
(Read article summary)
A gardener makes the case for turning 25 percent of the lawn into a more natural habitat. Independence Day weekend is a good time to think about why this is a good idea.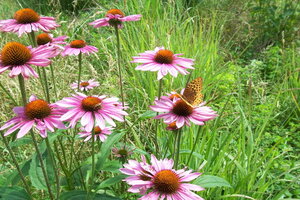 Courtesy of Donna Williamson
Holiday weekends give us some time to think about the garden and maybe take out a few weeds. For those of us with lawns, maybe it's an opportunity to think about getting rid of some of it.
Resource-intensive
Lawns are resource intensive and give little back. Needing to be mowed weekly, thirsty, shade-hating lawn grasses add little to the living landscape other than grass roots for Japanese beetle grubs to eat.
And often they require fungicides, fertilizers, herbicides, lawn services, spraying, dethatching, overseeding, blah, blah, blah.
The sharp decline in bird and butterfly habitat is worrying, and most of it is blamed on habitat destruction. That's not the rain forest I'm talking about – part of it is our lawns.
A more natural habitat
Our acres of lawn are among the habitats that provide nothing to the birds (other than the birdseed we buy) and insect pollinators we need for a large portion of our food and the food of the animals we enjoy.
So in line with the remembrance of our independence, we can consider giving back a bit and sharing perhaps 25 percent of our lawn with the creatures that need some taller grass and leafy perennials and native shrubs.
---